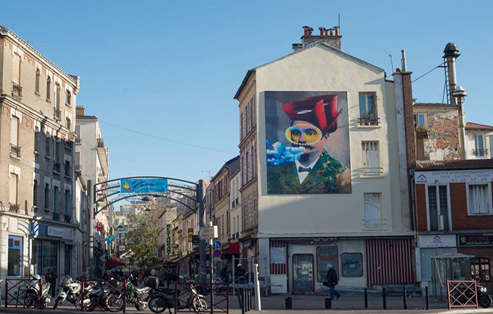 There was something wonderful about this small town in France, maybe because of the weather at the time I visited. It was a warm summer week when I was there and it felt like it was a colorful and vibrant place to be in.
Being a suburban town, you can come here for a weekend and enjoy a stay with your family. I walked around and enjoyed the views, taking in both the cultural and local vibes before heading onto other destinations of the country.
Parc Jean Moulin Les Guilands
As with most towns in France, there are parks that stand out and so it is here. When you are at Montreuil come down to this park and enjoy the sights and wilderness, right in the middle of the city.  Found the long, thick grass and heavy foliage, especially the algae covered park pond a wonder to look at. It is unlike most of the well-manicured parks that modern cities have. Even the fences and furniture the park has maintained a rustic charm.
Rue Du Capitaine Dreyfus
As I mentioned before, this is a town I loved to discover while walking around and this pedestrian street makes it one of the reasons why. You will find this street running through the heart of town. There is a historic air about its name, having been named after a French hero. What I enjoyed here was browsing through the stores. There are several Chinese restaurants here to try as well.
Croix De Chavaux Shopping Center
This is another place I visited and I recommend that you do the same. It is a vintage mall which is also famous for a concrete structure here called École Nationale De Musique Et De Danse De Montreuil.
In fact, there are unusual architectural structures to find across the town as well as murals and graffiti that make this town a riot of colors and give it a unique cultural vibe.